Who Are We at Huffines Chevrolet Lewisville?
For years, our dealership has offered quality new and used Chevrolet vehicles to customers in Lewisville, Dallas, and the surrounding areas. The Huffines Chevrolet Lewisville team works to get you in the car you want with friendly sales and service. From the moment you step through our doors, you'll experience a car-buying experience like never before. If you would like more information, feel free to reach out to us at 972-538-7000 today.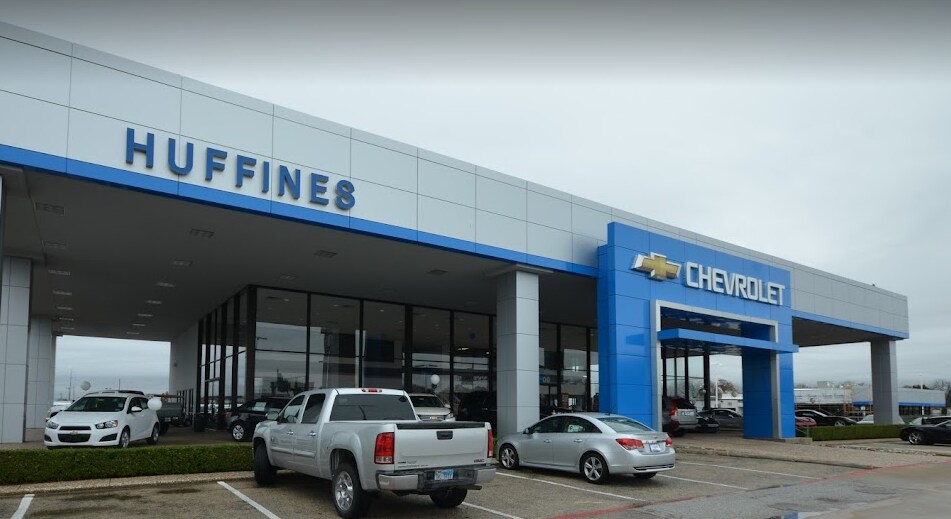 The Huffines Chevrolet Story
Huffines Motor Company opened for business in downtown Denton in 1924 with two main principles: treat our customers the way they want to be treated and support our local community. Mr. J. L. Huffines believed once someone purchased a vehicle, they became a fast friend for life. These beliefs have been passed down through the generations and are still honored today. When you buy a car from Huffines Chevrolet Lewisville, you're more than a customer - you're family.
An Unquestionable History Of Excellence
Our dedicated customer service over the years has earned us a set of awards that would make any dealership glow with pride. In the last few years alone, we've landed a dozen J.D. Power Dealer of Excellence Awards, a dozen Consumer's Choice Awards for Business Excellence, and the gold and silver versions of the Best in Dallas-Fort Worth People's Choice Award.
Our commitment to our customers is absolute, both in person and online. When our patrons come in and see us, they know that they're getting one of the best dealerships experiences our freedom-loving nation has to offer, whether they want a new, used, or certified pre-owned Chevy or need a service on the one they already own.
Competitive and Reasonable Pricing
We offer competitive and fair pricing on all of those new, used, and certified pre-owned Chevrolets those new, used, and certified pre-owned Chevrolets, we offer competitive and fair pricing on all of them. One of the core beliefs that our company has spread since those early days in the 20s is: "Treat others the way you'd want to be treated." When we're looking for a Chevy, we want a reasonable deal that we can take back to our families with a smile.
We know our customers want the same thing, so we do our best to give it to them. We offer Chevrolets at a wide range of price points, from top-of-the-line models at top trim levels with all the fixings to affordable vehicles for drivers who have started. We can help you get your hands on a great Chevrolet that suits your needs and budget, and we look forward to meeting you.
Service and Parts Department
The service and parts department at Huffines Chevy Lewisville is made up of highly trained, certified expert technicians dedicated to getting the job done right. Whether you need routine maintenance or a more extensive task such as engine repairs, we've got a team who can do it all. No time to call? You can schedule your appointment online if you have all the correct information schedule your appointment online.
Maintaining your Chevy vehicle is essential to keep it running at its best. We perform routine oil and oil filter changes, tire rotations, air filter changes, and brake pad replacements. Keeping up with these services will help save you time and money in the long run.
Sometimes things go wrong, and those issues need to be addressed promptly to get any required repairs so you can continue driving your vehicle. Please feel free to reach out to us if you notice anything happening that shouldn't be, such as the check engine light on, new noises, or your vehicle not starting. We can get you in for service and back on the road in no time.
Huffines Chevrolet Lewisville is conveniently located at 1400 S. Stemmons Freeway in Lewisville to serve Dallas, Carrollton, Flower Mound, and surrounding areas. You can reach our sales department by phone at 972-538-7000 between 8:30 a.m. and 8 p.m. Monday through Saturday. We also have a convenient online contact form you can fill out 24 hours a day, seven days a week. Once you submit the form, an associate will reach out promptly with a response.